Editor & Post Producer
Editing Sizzle Reel 2019
Full video clips avaliable for viewing upon request.
CASE STUDY
"CITY WALK" – LEAD EDITOR / POST PRODUCER
"You've seen travel shows. You've see health shows. You've seen history shows. City Walk is all that, put through a hip filter of urban renewal and rediscovery. Impressive!"
– Huffington Post
I was Lead Editor / Post Producer for Seasons 1+2 of City Walk, an LA Emmy-nominated TV docu-series. Broadcast nationally on LinkTV, Hulu, Amazon, Virgin America In-Flight, PBS and locally on KCET TV.
As the Editor of the pilot episode, I was instrumental in designing the look and structure of this stylized "magazine-style" series highlighting urban planning and green cities. The 30-minute episodes were made of 8-10 short segments; slick, commercial-style documentary shorts.
In addition to story editing and cinematography for the show, I created the overall look and feel with original title design (inspired by French New Wave title sequences), color correction (inspired by popular Instagram filters) and music choice (electronic jazz remixes from a local LA electronic musician). I even created hand-drawn animations for the show.
As Post Producer, I made sure that the additional editors followed my style-sheet, color correction, and title guidelines. I was in charge of delivering our cuts to the sound mixing studio, and I was present at nearly all sound mixes. I also worked with our television network to hand over deliverables on time, and created export rules and guidelines for our team.
Years later, the two seasons are still airing on repeat on KCET Network, and nationwide on PBS, LinkTV Network, and in-flight on Virgin America Airlines.
Another highlight: I got to see my title design/poster around LA for a month while it was advertised on 70 LA Metro Buses.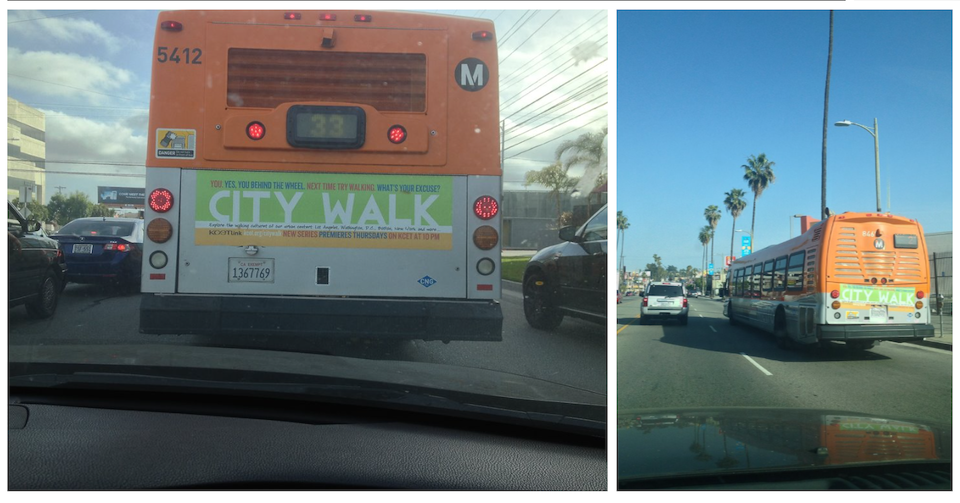 "Explosion of creative programming…Whether traveling in the US or if you're looking for something right in your own backyard City Walk is for you."
– KCRW
"City Walk is a Unique TV-series that reveals the way walking is transforming cities across America."
– MSN Living
---
Role Editor, Post Producer

For Various
Up Next:
Writing + Directing Reel